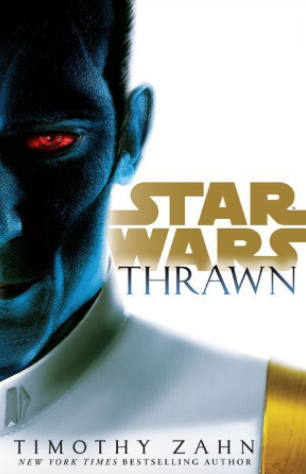 When I was in High School, I read Heir to the Empire, Book 1 in Timothy Zahn's "Thrawn Trilogy." Set five years after Return of the Jedi, these books (and the two that followed) were the Star Wars sequels I dreamed of one day getting to see on screen. An action-packed, well-crafted trilogy that honored the original characters while expanding the universe. In his series, Zahn introduced Grand Admiral Thrawn, a villain good enough to follow Vader, and that's saying something.
Fast forward a few years later, and the Star Wars prequels come out. Ugh. To para-phrase Obi Wan, those films were not the droids I was looking for. My disappointment with the prequels was compounded by the fact that I knew there was a great Star Wars story out there waiting to be told. I had read it! Zahn's sequels were superior stories by far.
Today, JJ Abrams & Co. are giving us different sequels, and I'm loving them, but I'm also excited that the folks at Disney have been smart enough to recognize Zahn's contribution to the Star Wars universe as well. Thrawn is now officially Star Wars cannon, having been reintroduced to the world via the animated series, Star Wars: Rebels. And, now I find out Zahn has a new Thrawn novel coming out next month? Talk about a new hope… I'm in.